Local News
October 22nd, 2021
Protests and public questions on fascist ex-councillor Tim Wills force Worthing Council inquiry

Around 80 people protested outside Tuesday night's meeting of Worthing Borough Council in the wake of the expose and subsequent resignation of Cllr Tim Wills, a supporter of fascist group 'Patriotic Alternative'. Protesters joined others to fill the public gallery as the Council reluctantly agreed to take public questions on the Wills affair.

Local anti racist groups have pledged to redouble campaigning efforts to combat racism and discrimination. Select photos from the night are attached (credit Jon Lovell).
Read More
---
October 22nd, 2021
Enforcement team keeping the streets cleaner
More than 200 fines have been handed out to people dropping litter as part of a new crackdown by Adur & Worthing Councils which saw more enforcement officers on the street.

Extra officers were drafted in by Adur & Worthing Councils in June as lockdown rules were eased in a bid to encourage people to take rubbish home with them
Read More
---
October 22nd, 2021
Adur & Worthing Councils' strike gold for animal welfare

Adur & Worthing Councils have been recognised for their work and commitment to animal welfare.

Their dog warden service was awarded the coveted RSPCA Gold PawPrint Award, which recognises good practice in helping animals by local authorities in England and Wales that go above and beyond the basic requirements.
Read More
---
October 18th, 2021
ANTI-RACIST PROTEST TO GO AHEAD ON TUESDAY 19th OCTOBER FOLLOWING RESIGNATION OF FASCIST COUNCILLOR
Local Conservative councillor Tim Wills was recently revealed by Hope Not Hate - a non-partisan organisation who research far right extremism - as being active in a fascist, white supremacist organisation, 'Patriotic Alternative'.
It was announced on Friday 15th that Wills had resigned his position as a Worthing councillor.

This news followed a protest of over 100 people on Saturday 9th October, an open letter calling for Wills to go, an online petition with over 700 signatories, and the announcement of a further planned protest outside the Worthing Council meeting on Tuesday 19th.
Read More
---
Topics
Recent Posts
Have You Seen...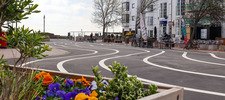 Brightening up Montague Place
April 26th, 2022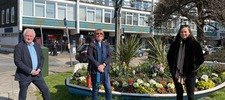 ANGER AT MONSTROSITY OF 5G POLE PROPOSAL AT BROADWATER SHOPS
March 25th, 2021