Local News
May 19th, 2022
Tickets are now available for the Tenth S'koolFest

Tickets are now available for the Tenth S'koolFest on Wednesday 8th June at Pavilion Theatre - and thanks to special funding this year from the Uni Connect programme, they are FREE! Pick your family's and your school's tickets now to ensure you're near the front for one of the best gigs you'll go to all year!
Read More
---
May 19th, 2022
Works start on Wednesday 18 May at Poulters Lane and a section of the connecting South Farm Road in

Essential road resurfacing work is scheduled to start soon on the A2032 at Poulters Lane and a section of the connecting South Farm Road in Worthing.
The surface in Poulters Lane is showing signs of significant weakening: the new one will be smoother, which will reduce road noise, and more resilient to potholes. A section of the adjacent South Farm Road will also be resurfaced, up to the Ardsheal Road junction.
The project is scheduled to start on 18 May. Hours of work will generally be between 8pm and 6am from 18 May to 21 May and 23 May to 28 May, all subject to factors such as severe weather.
Read More
---
May 13th, 2022
The Queen's Platinum Jubilee Beacons
Both Worthing Borough Council and Adur District Council have announced plans to light a Beacon in each area for The Queen's Platinum Jubilee on the evening of Thursday, June 2, 2022.
These Beacons are just two of thousands being lit in the UK and the Commonwealth, and forms part of the official programme announced by Buckingham Palace for the Jubilee Weekend.
Read More
---
May 11th, 2022
Worthing's Co-op Member Pioneer colleagues joined together to host an Afternoon of Tea and Entertain

Co-op colleagues Bob Smytherman (Member Pioneer for East Worthing, Lancing & Sompting) and Ann-Marie Lovejoy (Member Pioneer for West Worthing) joined together for a fundraiser and awareness event to support local charity West Sussex Mind to mark the start of Mental Health Awareness Week (9th-15th May).

Nationally Co-op colleagues have been raising funds for the last year to help reach the partnership target of £8 million for National Mind and SAMH in Scotland & Inspire in Northern Ireland

Colleagues Bob and Ann-Marie were joined by volunteers from the Lovejoy Centre in Worthing to prepare an Afternoon Tea with a Singalong followed by an Entertaining Quiz with Bob who is well known locally for hosting an online International Quiz during the Lockdown over the last two years.
Read More
---
Topics
Recent Posts
Have You Seen...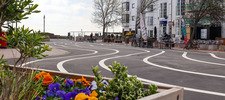 Brightening up Montague Place
April 26th, 2022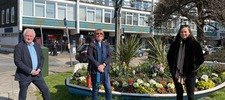 ANGER AT MONSTROSITY OF 5G POLE PROPOSAL AT BROADWATER SHOPS
March 25th, 2021