Charity News
February 3rd, 2021
Forever Holding Hands

An image based on the moving photograph 'Forever Holding Hands' which formed part of the National Portrait Gallery's Hold Still exhibition is to raise funds for NHS Charities Together.
Read More
---
September 30th, 2020
Go The Distance with Turning Tides!

Challenge yourself on World Homelessness Day 10/10/20 and Go the Distance for homeless men and women. Anytime, Anywhere, Anything!
On World Homelessness Day – 10.10.2020 – take part in Go the Distance virtually, choosing an activity of your choice, in a location of your choice. A challenge tailor made for you that brings huge benefit to others. This new look event seeks to get you out and about, either running, walking, swimming, cycling, dancing – or whatever activity you choose – to challenge yourself and GO THE DISTANCE for homeless men and women.

Why not use this date to motivate your distance; for example, cycling 20 miles, running 10 kilometres, or use the goal of 10 or 20 to push your limits and achieve an important target. Your challenge might be a significant personal goal over a period of time – to lose 10 pounds or complete 10 walks to improve your health. Going the distance for others can also mean going the distance for yourself.

On they day, we will be offering some online activities to spur you on, warm ups, 'cheer points' which you can plan your route past, tunes to get you to your goal, medals for all participants and rewards for reaching fundraising targets or excelling with the challenge. This event is open to people of all ages wherever you are to join in with the fun. Anytime, Anywhere, Anything!

Target sponsorship:

£85 per adult, £43 per child
£170 per family
For every £85 raised, we can give one day of emergency support to as many as 30 homeless men and women
Read More
---
September 21st, 2020
FREE Special Afternoon of Entertainment & Virtual Afternoon Tea at Three for World Mental Health Day

On Saturday 10th October (World Mental Health Day) people of Worthing are invited celebrate the end of Worthing's first ever online Mental Health Awareness Week with a FREE special afternoon of Entertainment & Virtual Afternoon Tea at Three lived streamed to Facebook courtesy of The Glamour Club who are thrilled to be partnering with WMHAW for the Grand Finale!

Janice Moth founder of the Glamour Club said:
"What better way to celebrate the end of a fantastic week than with a 'Glamour Club Afternoon Tea at Three'.

Prepare yourselves for a treat fit for Kings & Queens and a great night out during the day.
We are bringing The Glamour Club Experience right into your own front room! With live music from the delightful Karen Etherington who will entertain us with our favourite songs from 40's to 70's.

So, dust down your finest clothes, prepare your own afternoon tea, set it upon your best crockery, switch on your computer and join in the fun."
Taking place via Zoom on Saturday, 10 October 2020 between 3pm and 5pm!'.

The aim of the Week is to challenge the stigma around mental health and to provide good quality information in a safe and non-judgemental environment. Throughout the week there will be sessions of promoting selfcare and resilience.

The event will be held on our own Zoom Account hosted by MC Bob Smytherman and live streamed to our Facebook page https://www.facebook.com/worthingmentalhealthawarenessweek

To Join Zoom Meeting
https://us02web.zoom.us/j/81903841405?pwd=VC9sQ0RFNDA4aFVueE4xR1hoekZqUT09

Meeting ID: 819 0384 1405
Passcode: 267541

Full details of the events planned for the week are available on our website
https://worthingmentalhealthweek.co.uk/
Read More
---
April 1st, 2020
Recycling you can collect and store during lock down - avoid adding to landfill

Hi Folks,
This is a list of items that can be recycled but maybe people need to store them temporarily and go to the Boys Club when they are able to safely.

What can we accept?
• Plastic milk bottle tops
• Shampoo, shower gel & Deodorant lids
• Bread bags
• Crisp, Peanut, Pretzel & Popcorn packets
• Pringle tube, seal & lid
• Biscuit, cracker & cake wrappers
• Finish dishwasher tab packets, salt bags & other finish product packaging
• Cleaning wipe packets
• Roll on deodorant (whole thing)
• Trigger sprays & hand pumps
• Beauty wipe & Face mask packets
• Hair colour kits (all the bits that's not recyclable in your blue bin)
• Flexible plastic tubes-face scrubs, moisturisers etc
• Plastic pots - Face cream, moisturisers etc
• Baby food pouches with lids & snack packets (all brands)
• Zuru bunch o balloons, water balloons, stems, stem caps, ribbons & packaging it came in.
• Burt's Bees beauty packaging
• Metallic plastic tubes - cream, ointment, moisturiser
• Eyeshadow compact
• Lipsticks, gloss & balms
• Mascara tube & wands
• Lip, cheek, highlighter & bronzer sticks
• Carex refill packs
Where can it be dropped?
Yellow bin at Worthing Boys' Club, Ivy Arch Road, Worthing, BN14 8BX
Read More
---
Topics
Recent Posts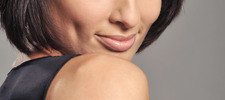 Flavia Cacace-Mistry is bringing that Strictly Come Dancing sparkle to Jack and the Beanstalk
August 15th, 2022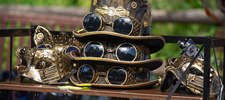 Steampunk at Amberley Museum
August 12th, 2022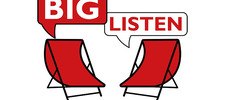 Enjoy the swings and tell them what you think
August 11th, 2022
Have You Seen...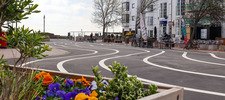 Brightening up Montague Place
April 26th, 2022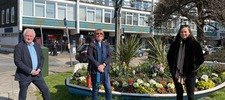 ANGER AT MONSTROSITY OF 5G POLE PROPOSAL AT BROADWATER SHOPS
March 25th, 2021