Business News
October 14th, 2021
Firewalk: 4th November

On Thursday 4th November Guild Care is hosting its first ever Firewalk at the Thomas A Becket pub! Why not bring your friends and family as you learn to conquer your fears by walking across 30ft of burning coals?

And all of this whilst raising money for our invaluable work, changing the lives of the most vulnerable in your community.
Read More
---
October 14th, 2021
OUTDOOR LEISURE FUN PLAN TO BRING TEVILLE GATE BACK TO LIFE AS COUNCIL BUYS KEY SITE

The revival of the long-derelict Teville Gate site is to take a leap forward with the search on for a company to take it over for leisure activities while a longer term developer is sought.

Worthing Borough Council has now completed the purchase of the site for £7m in a bid to control the destiny of the key site having become exasperated with the efforts of private ownership over decades to move forward.

Now as it prepares to look for a partner to bring forward a new housing and retail development it has advertised for a 'meanwhile' use operator to bring life back to the site with outdoor activities.
Read More
---
October 12th, 2021
TOWN HALL CAR PARK TO CLOSE AS WORK BEGINS ON NEW HEALTH CENTRE

Work is to begin soon on a new state-of-the-art £34m health centre in Worthing which will be a one-stop shop for a wide range of health care issues.
The Worthing Integrated Care Centre (WICC) will combine doctors, mental health specialists, outpatients, health visitors, chemists and services for families and children. It is to be located on the car park at the back of the Town Hall and would see the existing Central Clinic site demolished to make way for the new facility.

A new multi-storey car park for 186 cars is also to be built next to the new centre. The building project for the health centre and car park is to be funded by Worthing Borough Council through borrowing to the tune of £34m to be recouped through rent and income.
Read More
---
September 21st, 2021
GO-AHEAD FOR NEW HOMES AND GREEN SPACES IN WEST SOMPTING

Plans to build 469 new homes in West Sompting, with 30 per cent affordable dwellings and new green spaces, have been approved.
Members of Adur District Council's Planning Committee last night (Sept 20) gave the green light to the development, to be built by Persimmons Homes, after negotiations between the builder and council officers to enhance the design of the development. The discussions also secured the necessary infrastructure improvements including the provision of 30 percent of the building as affordable rented accommodation to meet the needs of the District.

In addition the developer will pay the Council more than £2m to help build a new primary school at New Monks Farm, £1.7 million for transport infrastructure including traffic calming measures, cycle links to Worthing, and bus subsidy contributions.
Read More
---
Topics
Recent Posts
Have You Seen...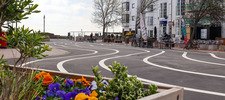 Brightening up Montague Place
April 26th, 2022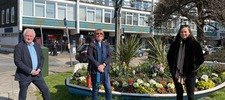 ANGER AT MONSTROSITY OF 5G POLE PROPOSAL AT BROADWATER SHOPS
March 25th, 2021