Environment Eco
March 26th, 2021
Sustainable AW High praise for communities joining the Councils in fighting for climate change

Wildlife corridors, community growing spaces in parks and zero-waste shops selling local produce - these are just some of the steps already being taken to help Adur and Worthing respond to the climate crisis.

With local residents calling for immediate action to be taken, Adur & Worthing Councils commissioned the Democratic Society to run a local Climate Assembly.

Forty three local residents were randomly selected from the local population to form the panel and met online over five weekends.

After hearing evidence from leading climate change experts, local community groups and businesses, a series of 18 recommendations were put before - and agreed - by leaders of Adur & Worthing Councils in January.
Read More
---
March 24th, 2021
Success for Help our Kelp welcomed by Adur and Worthing councils

Plans to limit trawling off the coast which will boost marine wildlife and help combat climate change have been welcomed by leaders in Adur and Worthing.

The Nearshore Trawling Byelaw introduced by Sussex Inshore Fisheries and Conservation Authority (Sussex IFCA) was this week approved by the Secretary of State for the Department for Environment, Food & Rural Affairs, the Rt. Hon. George Eustice.

It means that more than 300 square kilometres of seabed off the Sussex coast will now be protected from trawling - a measure which should allow essential habitats, such as kelp forests, to regenerate.

Photo credit Sussex IFCA
Read More
---
February 26th, 2021
Greenpeace Arun & Adur Group demand bottom trawler ban, as Greenpeace builds new underwater boulder

Activists on the Greenpeace ship Esperanza are currently building a new underwater boulder barrier in the Offshore Brighton marine protected area in the English Channel, one of the UK's most heavily bottom trawled protected areas.
Read More
---
January 11th, 2021
HISBE Food

Brighton-born "rebel supermarket" HISBE is opening a store in Worthing town centre, on Saturday 16th January 2021, and offering people the opportunity to win free shopping at HISBE for themselves and for local people in need.
HISBE is a supermarket on a busy Brighton high street, that offers a full range of fresh food and groceries, household and bodycare products, but does things very differently to your average Tesco's. They focus on local produce, Sussex suppliers, packaging-free goods and eco-friendly brands. Staff are paid the Real Living Wage and, of every £1 that goes through the tills, suppliers get 68 pence.
On 28th February 2020 HISBE signed a lease on a new retail premises at 38 Portland Road in Worthing, where the Polish shop used to be. They planned to open their second store in May, but within two weeks the Coronavirus changed that. However, post-lockdown HISBE has an opening date and has launched a crowdfunder, inviting people to support the new store and win free shopping for themselves and others.

Ruth Anslow, who launched HISBE's pilot store in Brighton in 2013 with her sister Amy and their friend Jack, is excited about opening their long-awaited second store: -
"These are uncertain times, and people might say we're a bit bonkers to be opening a new store in the middle of a pandemic! But even before Covid hit, we had spent 18 months looking for the right place. So, ever since we found it, we can't wait to get going....
Our interest in Worthing started when my sister moved here and declared that HISBE would be "right at home" in Worthing. We didn't know the town well at first but have found a unique mix of traditional local pride and forward-thinking spirit here, that comes through from the community, the businesses and the council. From talking to local people, we were excited to discover its proud history with food, land and sea, its thriving independent business sector and a growing buzz of action on local food and sustainability.
And then it seemed like fate when someone at the council told me the town motto is, 'From the land plenty and from the sea health.' That's right up our street - and we can't wait to be of service to this town!"
Read More
---
Topics
Recent Posts
Have You Seen...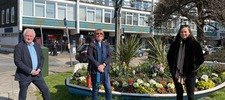 ANGER AT MONSTROSITY OF 5G POLE PROPOSAL AT BROADWATER SHOPS
March 25th, 2021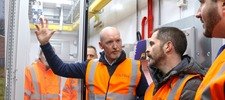 CityFibre speeds up Adur and Worthing's digital transformation
February 20th, 2020