April 30th, 2021
David' 6000 mile walk arrives in Worthing

On Thursday 29th April, David Matthews arrived in Worthing as part of his epic 6000 mile walk around all the Samaritans branches in the UK and Republic of Ireland.
Read More
---
April 30th, 2021
The Wave Closure: Children and Family Centres: Why they are so important.

In recent years Children and Family Centres have become a truly important resource in our communities. They are one of the few places that parents can go to be with others and reach out for support. They are in the heart of our communities, bringing services together and reducing social isolation. Support is available in many forms and that is what makes them so essential. People employed in them can identify many issues and how these can be addressed early before they become more serious. It has thus come as a shock to many that West Sussex County Council are proposing to withdraw services from 32 of the 43 Children and Family Centres in the County.

Research published in 2015 indicates that these centres are essential to well being because they improve the physical health of many families and individuals (especially those living with disadvantage) and have a positive social impact on communities. They bring people together, enable people to build networks of support, and combat social isolation.

A whole range of community services are available. 'The Wave' in Broadwater has areas for staff to meet, provides NHS services for mothers and babies including baby weighing and breast-feeding support, monitors child development, offers a meet up point for those suffering domestic abuse (Safe in Sussex), has Childminder support meetings, Moo Music for infants, a counselling service for children and families, wellbeing and weight loss classes, and an internet café. This is complemented by the café, which offers a place for elderly and otherwise isolated members of the community to meet for lunch. In addition to these it offers a centre for Foodbank collection and period poverty. If services are withdrawn, it is not known if the café will survive.

The logic behind this Early Help Redesign, which will see the closure of so many centres, is that they can better target services to the smaller number of people most in need of support. Indeed, throughout this debate there has been an either/or discussion about whether we should have children and family centres or more mobile, targeted support for those most in need. However, it is clear to anyone who works in this field that we desperately need both approaches in order to meet the range of needs in our communities across the county.
Read More
---
April 27th, 2021
Broadwater Community Association make us visually aware of the impact of 5G mast

Today, Broadwater Community Association made a visual impact on Cricketers Parade that can't be missed, which depicts the potential size of the cabinets that would be installed on the attractive space, should the proposal go ahead.
Read More
---
April 13th, 2021
The Good Stitch

An exciting new shop is coming to Worthing - The Good Stitch is for sustainable textiles craft. They'll sell deadstock fabrics & yarn - that's left overs from the garment making industry - as well as beautiful handmade finished goods by different artisans, with an emphasis on repurposed materials. They'll be offering lessons and social groups for sewing, knitting and many other textiles crafts, led by talented teachers.
Read More
---
Topics
Recent Posts
Have You Seen...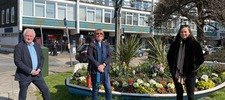 ANGER AT MONSTROSITY OF 5G POLE PROPOSAL AT BROADWATER SHOPS
March 25th, 2021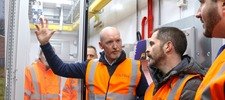 CityFibre speeds up Adur and Worthing's digital transformation
February 20th, 2020