November 2nd, 2021
D-Day veteran cycles 11km for Remembrance

During Remembrance, a Normandy veteran is taking on the challenge of cycling 11km to honour our fallen heroes.

Len Gibbon, 97, will complete the distance over two days using a static bike to raise funds for Worthing-based charity, Care for Veterans.

Len is a resident at Care for Veterans, which provides care and rehabilitation to physically disabled ex-Service personnel and their families.

Len and several other resident veterans will cross the finish line on 11 November in a group physiotherapy session. They will be joining over 60 other participants in the virtual challenge 'Race for Remembrance', organised by the charity to help raise the funds needed to continue its work.
Read More
---
October 26th, 2021
Humphreys steps down as Leader of Worthing Borough Council
Leader of Worthing Borough Council, Cllr Daniel Humphreys has announced that he is to step down after six and half years in the post.

Announcing the news, Cllr Humphreys said, 'Leading Worthing Borough Council has been one of the proudest and most rewarding experiences of my life but the time has come to move on to pursue a new opportunity.

'I'd like to place on record my thanks to fellow councillors, all the staff at Worthing Borough Council and the members of the community who have supported our work in recent years.'

Cllr Humphreys, who has been offered a new post in public affairs outside of Worthing but who will continue to represent Offington ward, said under his leadership the Council had been recognised as one of the best and most innovative in the country.
Read More
---
October 26th, 2021
DIVEST WEST SUSSEX DEMO FRIDAY 22nd OCTOBER 2021

Worthing Climate Action Network, Extinction Rebellion Worthing, XR Chichester, XR Horsham, SECA, held a march and demonstration at County Hall, Chichester, on the day of a full council meeting.

For five years Worthing Climate Action Network has been calling for WSCC to divest the pension fund from fossil fuels. WSCC currently invest over £128 million pounds in fossil fuel companies, such as Shell and BP. We want 2021 to be the year they commit to full divestment.
With a funeral for the past and future victims of the climate crisis and speeches from Rianna Garguilo, Friends of the Earth, and Jenny Conduit, former Managing Director of JP Morgan, urging West Sussex to divest, this was a powerful and moving event.
Emma Cameron, Chair of Worthing CAN said: "The climate crisis is escalating. People in frontline communities, particularly in the Global South, are dying now but no one will escape; if global heating continues unchecked there will be food shortages and starvation. If we care about life on earth, investing in fossil fuels needs to stop."
Photo Credit Rob White
Read More
---
October 25th, 2021
Worthing Samaritans appeals for shop volunteers

Worthing Samaritans urgently needs volunteers to help in its charity shop in Durrington. Income from the shop covers the running costs of Worthing Samaritans, but volunteer shop workers are hard to find, and as a result the shop cannot open as much as it would like.
Shop Manager Jo says "Since COVID it's become difficult to recruit and retain volunteers, which is frustrating because we would like to open more hours, but just don't have the staff. We're conscious of how much the work of Worthing Samaritans depends on the shop, and we would really love to have more help. Our volunteers find it really fulfilling working in the shop. You meet new people every day, use your skills, and know that every penny from items you sell goes towards the life-saving work of Worthing Samaritans."
Read More
---
Topics
Recent Posts
Have You Seen...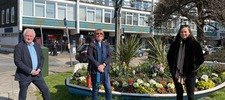 ANGER AT MONSTROSITY OF 5G POLE PROPOSAL AT BROADWATER SHOPS
March 25th, 2021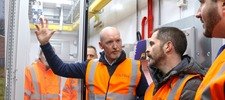 CityFibre speeds up Adur and Worthing's digital transformation
February 20th, 2020