March 21st, 2022
Get out and about to see the wildlife on your doorstep

Could you tell the difference between a cricket and a grasshopper? Do you know your dandelion from your catsear? And would you know what to do with a slow worm if you saw one?
Read More
---
March 17th, 2022
Green canopy in Adur and Worthing to celebrate the Queen's reign

Hundreds of trees are being planted across Adur and Worthing to celebrate the Queen's Platinum Jubilee.

The Queen's Green Canopy is a national initiative to mark the Jubilee through the planting of trees to create an environmentally sustainable legacy for communities across the country.

Adur and Worthing's events have officially begun with the planting of commemorative English oaks at Beach House Park in Worthing and Buckingham Park in Shoreham.

Mayor of Worthing Councillor Lionel Harman and Caroline Nicholls, the Deputy Lord Lieutenant of West Sussex, assisted with the Beach House Park planting while Adur District Council Chairman Councillor Stephen Chipp and his children Eloise, 10, and Samuel, 6, had the honour in Buckingham Park.

Those trees are just two of more than 1,400 that will be planted in parks and other green spaces across Adur and Worthing during the Jubilee year.

Events to celebrate the new greenery in Worthing, Shoreham, Lancing, Sompting and Southwick are planned throughout the year.

By the end of the year, Adur will have seen trees planted in nine different council wards, with the largest concentrations being at Lancing Ring, Lancing Manor Park, Buckingham Park and Malthouse Meadow.

Worthing's Jubilee trees will be planted in six different wards, in Salvington, Offington, Durrington, Northbrook, Central and Marine, with the largest numbers being at Sheepcombe Hanger, The Sanctuary, West Hill and Northbrook Recreation Ground.

Cllr Harman said: "It is an honour to have had the chance to play my part in such an important commemoration in Worthing.

"The Jubilee trees will be a lasting legacy to remember Her Majesty and all she has done for this country."

Cllr Chipp said: "It's particularly fitting that our Jubilee celebrations should focus on such an environmentally conscious issue as the planting of new trees.

"We all need to do our bit to tackle the climate crisis so I was delighted to be able to share with my children the honour of investing in the health of our planet."
Read More
---
March 16th, 2022
COUNCIL COMMITS MILLIONS TO RENOVATE LIDO AND PREPARES OPTIONS FOR ITS FUTURE

Large-scale renovation of the Grade II listed Worthing Lido will cost at least £2m, says a new report.

The work is to be carried out to repair and preserve the concrete substructure of the iconic seafront landmark ahead of plans to revive it as a tourist attraction.

A range of subsequent options to revive the landmark are being considered including returning it to its original theatre and music venue, bringing back a heated swimming pool, possibly including a small boutique hotel or providing a new food court in the space.

A report to Adur & Worthing Councils Joint Strategic Committee (JSC) on Wednesday (March 16) recommends an extensive period of consultation with local residents about what they would like to see there but also warns that many of the options are likely to be expensive.

In the meantime a specialist report on the substructure repairs needed is imminent with councillors told that borrowing of around £2m is likely to be needed although full costs are not yet known. Worthing Borough Council, which spends around £11,000 a year to maintain the structure against the seaside elements, now recognises it is coming to the end of its natural life and more significant work is required.

Cllr Nicky Waight, Worthing's Executive Member for Regeneration, said: "The Lido has been a much loved attraction for residents and visitors over the years but now it needs some extra care from us to give it a bright future. We need to invest more in the Lido to make sure it remains one of our major seafront destinations

'As we move forward we will involve the community in these deliberations but rest assured the Lido will be part of our wonderful seafront for decades to come.'

The Lido was originally built as a bandstand enclosure in 1925 on the site of the old 'bird cage' band stand which dates from 1897. The current 'D' shaped enclosure was built on an extended elevated substructure over the foreshore.

The swimming pool was added in 1957, which is when the structure became known as The Lido, the pool being subsequently decommissioned in 1989 with a concrete slab placed over it. The extra weight of the swimming pool and subsequent slab has taken its toll on the substructure, both concrete surface and pillars that support the base.

To help start the process an architectural company with expertise in lidos was engaged to look at possible future uses. Among the options outlined are the return of an outdoor swimming pool including an option to add a small boutique hotel and restaurant, a music venue or a theatre, and a food court.

The report to the JSC says the cost of some of these options might be upwards of £10m with applications to the National Lottery Heritage Fund, the Government's Levelling Up Fund for and even a public subscription campaign possible options to raise funds for the project.
Read More
---
March 4th, 2022
Awareness training helps cabbie save pensioner from scammer

A pensioner was saved from a scammer by a quick-thinking taxi driver who had been trained to help the vulnerable by Adur & Worthing Councils.

Arrow Taxi Group driver Lisa Stanbridge stepped in when she heard an 87-year-old Worthing grandmother in the back of her cab telling a friend how she had withdrawn more than £2,000 from her bank and was on the way to give it to a man she had never met.
Read More
---
Topics
Recent Posts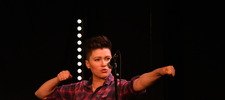 LGBTQ+ storytelling & folklore comes to Colonnade House
June 29th, 2022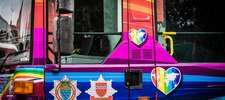 Broadwater Carnival and Fire Station open day 2022
June 29th, 2022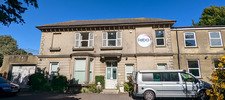 Boost for homeless in Worthing
June 29th, 2022
Have You Seen...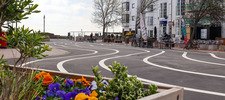 Brightening up Montague Place
April 26th, 2022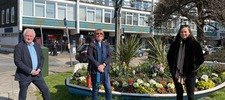 ANGER AT MONSTROSITY OF 5G POLE PROPOSAL AT BROADWATER SHOPS
March 25th, 2021