March 29th, 2022
New Worthing Venue for Music Charity
AudioActive expanding mentorship programme with new cafe,
workspace and independent vinyl record store.

Public open day 9 April

Grassroots music charity, AudioActive, are expanding their Sussex base with a new location in central Worthing. Look out for this innovative venue opening very soon, combining live music events, café and independent record store. Studio space and offices for professional music artists are available to rent with access to lounge and kitchen.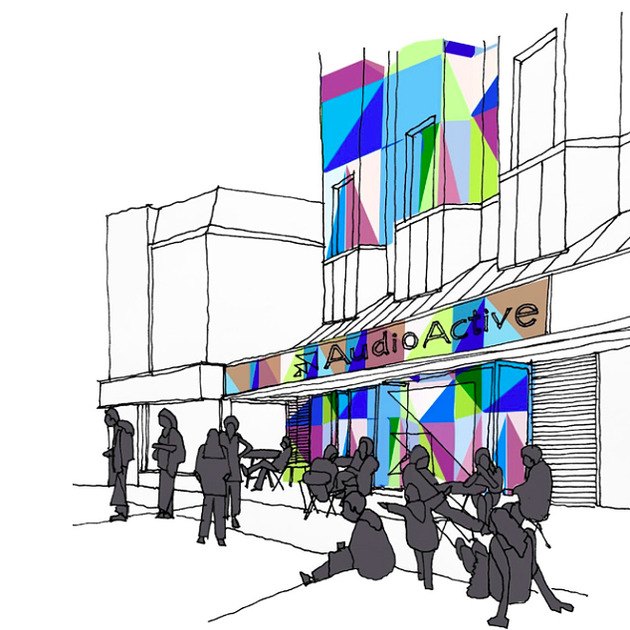 AudioActive has worked across Sussex for over 20 years running free to access music projects. Collaborating with school and service providers they help improve outcomes for vulnerable young people in need of support. Their inclusive, drop-in programmes are creative ways for young creators to connect with each other and release difficult thoughts and feelings through music, lyric writing, production and performance.
An open space for young artists, some owe their breakout success to early sessions developing their craft at AudioActive. Rizzlekicks and ArrDee, are a few with stars on the rise in chart, hip-hop and rap - and continue to support as patrons and advocates of the charity. Also lending his considerable stature as a patron to the youth project, Room to Rant, is celebrity musician, Rag 'n' Bone Man, aka Rory Graham. Achieving success outside of the conventional academic path, Graham is vocal about making sure that young people with the potential to flourish are not sidelined and find alternative performance opportunities and positive role models in an increasingly homogenous industry.
However, driving commercial success isn't the bedrock of AudioActive, as Adam Joolia, CEO explains, 'Although many of the young people we work with go on to carve out careers as musical artists or even achieve global stardom, that's not our main agenda. We simply want to make it possible for young people and aspiring artists to use music to reach their potential, whether that be as empowered and active members of society or tomorrow's exciting artists and disruptors'.
Always ambitious, AudioActive's vision is to create a Worthing one-stop music destination with a broad spectrum of choice for under-represented and new music talent to perform, open to other venues or promoters to advertise their own events. An independent vinyl store will stock less-mainstream genres and music lovers can tap into new releases through the streaming pods with curated playlists. Currently, AudioActive are presenting the exciting opportunity to young entrepreneurs, interested in taking their first steps in retail, to run their own independent store within the hub.
The upper floors will house studios, lounge, kitchen and dedicated co-working space for professional musicians to find resources, equipment and access to not-for-profit recording label, MXTR.
All profits from retail sales are channelled into music programmes, creating opportunity and supporting young people through drop-in music sessions, delivered daily by experienced mentors.
❖
Support their community work
by simply dropping into the café, run by local brewhouse, Montague, which is likely to become your favourite brunch spot. With a seasonal single origin coffee menu and snacks, the service is unfussy, simple and pared back. Catering for all dietary choices, Montague has a fantastic selection of homemade cakes and brownies, but if you're after something a bit more substantial, there will be a regionally sourced brunch menu.
❖
The independent vinyl store
will stock current chart and new music genres. Contemporary music lovers can discover new sounds with a weekly curated selection streamed in listening pods. If in a more social frame of mind, share the experience with friends in the chill out area.
AudioActive would love to speak to any young entrepreneurs interested in starting their own retail vinyl store.
❖
Evenings, the space shifts up a gear
to an intimate grassroots music venue with a great calendar of events already planned - hosting live gigs from local fresh talent, DJ sets with a few established names thrown into the mix. Most shows will be ticketed but keep an eye as there will also be free events plus live-streamed performances from new artists. AudioActive are also committed to support local aspiring or start up promoters to bring their own acts and events to the venue.
❖
You'll find AudioActive in the former Dorothy Perkins building on Montague Street
in the centre of Worthing where new cafes, shops and nightlife are concentrated. Converted from a classic department store, AudioActive are breathing a new second life into the building with their ambitious project. If you look around closely, you'll find the design has taken inspiration from the old shop's previous life and more than a nod to the 1960's brutalist architecture (with a few odd remnants making an appearance).
❖
Music professionals can tap into the resources
available and hire equipment and space for low-cost studio work. Hardworking musical entrepreneurs of all genres and disciplines can concentrate on their creativity in a dedicated and professional space. AudioActive has the technical capability and support network to help artists in the next stages of their careers.
❖ Coming in 2022, AudioActive are launching MXTR, a brand new platform created to tackle exploitation within the music industry and present an alternative approach with artist centred recording deals, enabling creative control and transparent financial management. MXTR is a social enterprise and 100% of profit is fed back into artist support and the next generation of young talent.
Who are AudioActive?
AudioActive was set up in 1999 by a small team of music heads and youth workers with the simple aim of giving local young people the chance to access and create music. Starting as part of a neighbourhood development project, the organisation now works across Sussex, running year-round projects for young people aged 13-25.
About 5 years ago, the AudioActive team noticed something unique about Worthing in particular. The sheer amount of young underground music talent coming out of the town was palpable, not least due to Worthing's rich musical history but also thanks to the excellent music department and courses at Northbrook College. Together with the council they commissioned independent research to look further into what was happening and found an imbalance between the latent young talent in the town and the scenes, platforms and infrastructure needed to further develop them. A pandemic and a few bumps in the road later and they are on the starting blocks!
Music as social change
Youth spending is at its lowest in over a decade with many services brushed aside simply to keep the lights on and tackle the most serious cases. This has left many young people vulnerable to falling through gaps in education or social care and missing out on opportunities. Undeniably, the Covid pandemic has amplified mental health and loneliness issues, leaving many young people struggling without badly needed support.
Weekly drop-in classes provide an alternative safety net; Room to Rant, where non-binary folk and males aged 16-25 can explore their life struggles through rap, hip hop and spoken word; and Equaliser, which helps women and gender variant individuals tackle inequality in the music world, mentored by production professionals. These are just two of the many sessions running which help young people build the confidence to face problems head on and shore up the resilience to look beyond themselves and get to grips with life's challenges.
Stress, boredom, isolation all can easily spiral down into more serious issues without tangible and genuine effort to connect with young people who are disengaged. Involving young people in music making, particularly genres they identify with and that speak to them, can be a powerful tool to help them find their own voice and self-assurance that can lead to making better life choices for themselves. One young musician was honest and open about his reasons for taking part in the project "[my AudioActive mentor] has given me good support - I get on with him well and he's really easy to speak to. It really helped having someone to talk to during lockdown. I've been able to talk about my past and issues with drugs….I used to brag about my drug use but now I talk more openly about my usage and bad experiences."
The impact on family members is also palpable, as his mother also explained "[My son] was referred to AudioActive as part of his Reboot anti child exploitation intervention programme. [He] is a young survivor of criminal child exploitation. He was highly vulnerable and in a very scary and dangerous place. Through the brilliant AudioActive team, SAK has reengaged with creative arts and his musical talents; extending them to dizzy heights with an incredible mentor called Nicholson. He is a pure joy to be with, he is happy and healthy and a very positive and caring role model for his younger brother, all of this is everything a parent could ever wish for."
Music stimulates the enjoyment centre in the brain which in turn packs all kinds of positive benefits – clearer decision making, improved focus and confidence which can help smooth out attendance issues at school or college and genuinely can make all the difference to academic outcomes.
Local artist and promoter, Tom Hines, is a youth mentor and huge advocate for the power of music saying ''after I saw [a] young guy come off stage after performing for the first time, he was visibly taller'. Echoed in the words of a musician "Considering I'm a kid, I'm pretty good. I just want to get this music out to show those who don't like me because of the tracks I made when I was only sending for people. I've grown up"
LINKSRoom to Rant
- watch the video where Rag 'N' Bone Man speaks with young artists rapping about issues they feel are too difficult to share - sheer poetry from these young men
https://www.redbull.com/gb-en/videos/ragnbone-mans-room-to-rant-how-music-has-the-power-to-create-change
From troubled teen to inspiring role model. Hear Sam talking about 10 years with AudioActive.
https://www.youtube.com/watch?v=Pxruv5hUgeM
New Worthing Venue for Music Charity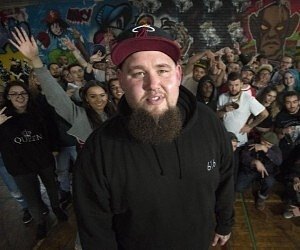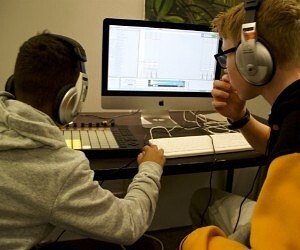 ---
Comments (0)
No comments have been submitted yet.
Why not be the first to send us your thoughts
Leave A Comment

Thank you for your comments, they will appear shortly once approved.
Topics
Recent Posts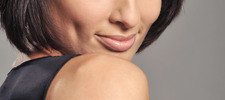 Flavia Cacace-Mistry is bringing that Strictly Come Dancing sparkle to Jack and the Beanstalk
August 15th, 2022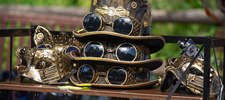 Steampunk at Amberley Museum
August 12th, 2022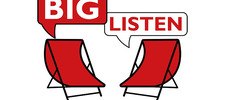 Enjoy the swings and tell them what you think
August 11th, 2022
Have You Seen...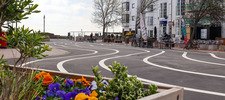 Brightening up Montague Place
April 26th, 2022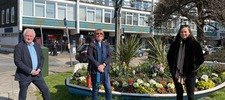 ANGER AT MONSTROSITY OF 5G POLE PROPOSAL AT BROADWATER SHOPS
March 25th, 2021