Local News
June 29th, 2022
LGBTQ+ storytelling & folklore comes to Colonnade House

Non-binary storyteller and artist Amelia Armande is on a mission to share the stories of LGBTQ+ heroes hidden in the history of folklore, myth and legend across the world.
Join Amelia at Colonnade House over Trans Pride weekend to hear stories of gender swapping knights, gay princes, non-binary deities and more, alongside original art depicting these lesser-known stories.
Read More
---
June 29th, 2022
Broadwater Carnival and Fire Station open day 2022

We are looking forward to welcoming you all back to the Broadwater Carnival and Fire station open day event. This year the event will take place on Saturday 23rd July and is themed Fairytales. We have lots of stalls, children's rides, arena events on the Green and fire safety demonstrations and activities for you at the Fire Station.
Read More
---
June 29th, 2022
Boost for homeless in Worthing

Homeless people in need of support will get some vital help after plans to demolish an empty building on an industrial estate and replace it with 21 individual apartments were given the green light.

Worthing Borough Council's Planning Committee has voted through the proposal to knock down the vacant Skywaves House on the 0.11 hectare brownfield site at the end of Ivy Arch Road, Worthing, and build some much-needed temporary housing.
Read More
---
June 27th, 2022
Local hero to be honoured for saving pensioner from drowning

A Worthing businessman and longstanding customer of Inside Magazines is to be honoured after he saved the life of a pensioner who got into difficulty in the sea.

Henry Smith, 37, was enjoying the sunshine by the pier on Worthing seafront with his mum, wife and two children when he spotted Lesley Clark, 84, struggling in the water on Friday (17 June).
Read More
---
Topics
Recent Posts
Have You Seen...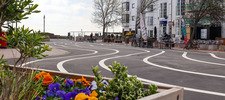 Brightening up Montague Place
April 26th, 2022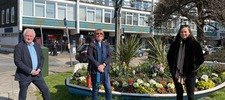 ANGER AT MONSTROSITY OF 5G POLE PROPOSAL AT BROADWATER SHOPS
March 25th, 2021