Local News
December 7th, 2021
Explore magical Christmas traditions through time at Petworth this festive season
Christmas at Petworth: Saturday 27 November 2021 to Monday 3 January 2022, 10:30am-3:30pm, includes Percy the Park Keeper's winter wander trail Saturday 4 December to Monday 3 January, 10am-3.30pm (closed 24 and 25 December)
Travel through time to discover Christmas traditions past and future at the National Trust's Petworth House and Park in West Sussex. From sparkling period costumes exquisitely fashioned from winter flowers and foliage, to mystical, magical scenes from the future, this is a Christmas experience for all ages.

In the Pleasure Garden, families can meet Percy the Park Keeper and help him and his animal friends with their winter jobs on the family adventure trail, or come along to enjoy poetry and choir performances on set dates.

This festive season the rooms in the art-filled Petworth House are being transformed into Christmas periods through history. Step into Georgian times in the Somerset and Square Dining Room, then experience the merriment of Christmas trees in the Victorian themed Marble Hall. See how despite the post-war era, families still celebrated Christmas with warmth and joy in the Little Dining Room. Then finally, travel through time to a fantastical future Christmas throughout the Carved and Red Room. Here you'll see a magical contemporary Christmas tree themed installation and discover how families may gather to celebrate the festivities in the future.
Read More
---
November 30th, 2021
Plans for restoring New Salts Farm to its natural habitat to be unveiled

Local residents are invited to contribute ideas for restoring New Salts Farm to its natural habitat.
The 70-acre piece of land - the green gap between Shoreham and Lancing - was purchased by Adur District Council in 2020 to protect it from housing development.
And now the Council and the Ouse & Adur Rivers Trust are developing ideas for the site to become a haven for wildlife and a green space to be used and enjoyed by the community.
They are hosting a webinar Thursday 9th December from 6 pm to 7pm, at which residents can hear about the current ideas for the site. As well as restoring streams, wetlands, hedgerows and meadows, this could include creating an educational training space and a community garden.
New Salts Farm is one of a number of areas of land purchased by Adur District Council as part of its pledge to promote biodiversity and tackle climate change. In 2019, the Council declared a climate emergency and has committed to becoming carbon neutral by 2030.
Wetlands, like New Salts Farm, help to store carbon and support an abundance of plant life, which in turn provide shelter and breeding grounds for wildlife.
Salt marshes are important habitats for many rare and unusual species of plants, birds and animals and help protect surrounding land from flooding. They also absorb carbon dioxide from the atmosphere which helps to decrease the effects of climate change.
Read More
---
November 25th, 2021
POSTPONED: Worthing Christmas Market
NEW DATE: Saturday 11 December 2021

Worthing's annual Christmas Market has been postponed from this Saturday (27 November) until Saturday 11 December, from 12pm until 6pm.

James Bacharew, Head of Fundraising and Marketing at Care for Veterans, said: "Sadly, we have had to postpone the Worthing Christmas Market from this Saturday (27 November) until Saturday 11 December. This is due to suspected cases of a non-Covid related winter bug at our facility. Although the Christmas Market is held outside, this is a precautionary measure as the safety of our resident veterans is our main priority.

"We really hope that anyone hoping to attend this weekend can come along and see us on 11 December. We apologise for any inconvenience to those who were planning to attend. In a difficult year, with so many cancellations, we really appreciate the ongoing support from our local community."

Rescheduled for Saturday 11 December, the Worthing Christmas Market will be outside the Care for Veterans' facility on Boundary Road, in Worthing's West End, from 12pm until 6pm. Over 25 independent traders will be selling gifts, decorations, festive treats, and real Christmas trees, along with Santa's grotto, mulled wine and beer, and many opportunities to win prizes in games, raffles and tombolas. There will be live entertainment throughout the afternoon.

All money raised will help towards the over £1.5 million needed each year for the charity to maintain its nursing and rehabilitation services for ex-Service personnel and their families.

Current residents in Care for Veterans' 60-bed facility are aged between 35 and 98 years old. The majority have Acquired Brain Injury (ABI) or a degenerative neurological condition, such as multiple sclerosis, motor neurone disease and Parkinson's. As an independent provider, the charity can fill the gaps often found between healthcare and social services.
Read More
---
November 22nd, 2021
Worthing unwraps a range of festive treats for Christmas

Visitors to Worthing can look forward to a range of festive treats this year, including a full Alpine dining experience...on the seafront, and a spectacular laser show to light up the December night sky.

The pop-up Alpine Lodge Bar & Kitchen, which is being constructed in Montague Place this week to open the first week of December and is a collaboration between several Worthing businesses, will serve up the tastes of the French and Austrian ski slopes.

And back by popular demand, BAFTA award-winning artist Seb Lee-Delisle will present his Laser Light City show in the week before Christmas. Last year's dazzling outdoor event drew thousands of people from across the region to Worthing seafront.

The attractions are being delivered as part of the Christmas in Worthing campaign - a fun-filled calendar of festivities - which was officially launched on Friday when the Christmas tree lights in Montague Place and the twinkling decorations across the town were switched on.

Christmas in Worthing is the latest initiative from Time for Worthing - a collaboration between Worthing Borough Council, the Town Centre Initiative (TCI) and community organisations - with the aim of supporting the local economy and welcoming visitors to the town over the festive period.

In conjunction with the Christmas in Worthing campaign, TCI has launched the new Worthing Gift Card which recipients can use at over 60 participating shops, restaurants, cafes and leisure facilities and support local businesses in town. The popular toy soldier and Christmas tree trail will also be back this year, with prizes for collecting the names of all the large figurines.

In addition, Worthing Borough Council will be providing free parking for Christmas shoppers on Saturday 11th and Saturday 18th December at the Buckingham Road multi-storey car park.

Many of the popular Christmas attractions which were unable to take place last year due to the COVID pandemic are returning to the town. This includes the pop-up Worthing Ice Rink at Steyne Gardens and family panto Beauty and the Beast, which opens at the Pavilion Theatre at the end of this month.

And local residents and visitors can look forward to the annual winter pop-up shop at Colonnade House featuring free festive decoration-making workshops, as well as the East Beach Christmas market.
Sam Whittington, Chair of the Worthing TCI and Member of Time for Worthing, said, 'We're thrilled to have so many local businesses on board for the Worthing Gift Card, which will make the perfect Christmas present. It's a great way to showcase the wide range of retailers and services we have right here in Worthing and encourage people to shop local and support the high street."
Cllr Kevin Jenkins, Leader of Worthing Borough Council said: "After a challenging time for many, we wanted to ensure the year ends with some festive cheer. We're delighted to be partnering with local businesses and community organisations to deliver some amazing events and activities in the countdown to Christmas and welcome people into our town."

Find out more about Christmas in Worthing, which will be promoted on posters and on social media, at the Time for Worthing website: https://timeforworthing.uk/whats-on/

PHOTO CREDIT: Jan Budgen
Read More
---
Topics
Recent Posts
Have You Seen...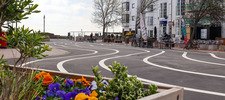 Brightening up Montague Place
April 26th, 2022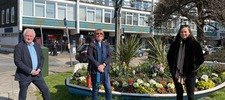 ANGER AT MONSTROSITY OF 5G POLE PROPOSAL AT BROADWATER SHOPS
March 25th, 2021