Local News
October 12th, 2021
Partnership sets out plans for creating safer Adur and Worthing communities

Efforts are being stepped up to help residents feel safer, while making all sections of the community feel more included as part of a long-term plan in the wake of the COVID pandemic.

The new Adur and Worthing Safer Communities Partnership Strategy (2021-2024), which has been developed by the Adur and Worthing Safer Communities Partnership and is informed by local intelligence, sets out six key strategic priorities.

These are reducing the harm caused by serious organised and acquisitive crime, increasing safety for vulnerable adults and children, improving pathways out of offending and reoffending, increasing community cohesion and reducing antisocial behaviour and hate crime, reducing public place violent crime with a focus on youth safety, and tackling social inequality and the drivers of crime.
Read More
---
October 12th, 2021
TOWN HALL CAR PARK TO CLOSE AS WORK BEGINS ON NEW HEALTH CENTRE

Work is to begin soon on a new state-of-the-art £34m health centre in Worthing which will be a one-stop shop for a wide range of health care issues.
The Worthing Integrated Care Centre (WICC) will combine doctors, mental health specialists, outpatients, health visitors, chemists and services for families and children. It is to be located on the car park at the back of the Town Hall and would see the existing Central Clinic site demolished to make way for the new facility.

A new multi-storey car park for 186 cars is also to be built next to the new centre. The building project for the health centre and car park is to be funded by Worthing Borough Council through borrowing to the tune of £34m to be recouped through rent and income.
Read More
---
October 11th, 2021
Random acts of kindness graces the halls of Worthing care home thanks to local social action project

A care home in Worthing has experienced a random act of kindness from a social action project which has been gracing the community with beautiful gifts.

The other month, Haviland House, a dementia care home based in Goring, was gifted with lovely letters alongside some homemade flowers to show the elderly community that they are loved, remembered and appreciated.
Read More
---
October 6th, 2021
HEAT FROM UNDER OUR FEET COULD SEE WORTHING LEAD WAY ON PIONEERING ENERGY NETWORK

Investigations in the sewers below Worthing have discovered enough heat to power a pioneering new energy network, a report says.

The discovery is the latest stage of ambitious plans by Worthing Borough Council to link public sector buildings in the borough to an environmentally-friendly heat source thus replacing gas boilers and reducing carbon emissions by up to 90 per cent.

The Council has pledged to become carbon neutral by 2030 and gas consumed in its buildings makes up one third of emissions.

Called the Worthing Heat Network (WHN) the scheme will link up 27 buildings including the Town Hall, library, hospital, leisure centres, law courts, police building and possibly even schools.

In an update on WHN, a report to the Council's Joint Strategic Committee (JSC) says investigation of the sewers under the town has revealed that they contain more than enough heat to replace gas boilers in public buildings. A centralised heat pump will be used to turn heat from the wastewater in the sewer into usable heat for buildings..

The report says the Council has been successful in obtaining more than £5m from the government's Heat Networks Investment Programme (HNIP) for preparatory work, initial construction and to secure a partner to part-finance, design, build, own and operate the entire network. Later stages could see the network extended to more premises across the borough.

The Department of Business, Energy and Industrial Strategy has identified the Worthing project as a pathfinder which could be used by local authorities across the country, working with partners, to remove the reliance of buildings on gas heating and thus help slash carbon emissions which are the main cause of global warming.
Read More
---
Topics
Recent Posts
Have You Seen...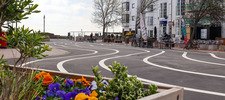 Brightening up Montague Place
April 26th, 2022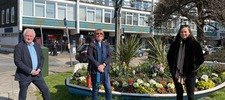 ANGER AT MONSTROSITY OF 5G POLE PROPOSAL AT BROADWATER SHOPS
March 25th, 2021