Local News
July 7th, 2021
New facilities for athletes and dog walkers after Worthing Council investment

Olympic hopefuls of the future will be given a greater sporting chance thanks to investment in athletics facilities by Worthing Borough Council.

For many years, the town has had a strong reputation for producing national level competitors with Worthing Harriers one of the most active athletics clubs in the region.

While their home track at Worthing Leisure Centre is well-used by people of all ages, those in field events - notably the hammer - have to train further afield due to the deterioration of the throwing facilities.

After close discussions with the athletics club and operator South Downs Leisure, the Council is allocating funding out of its capital budget towards the purchase and installation of a new hammer cage for Worthing Harriers.

The upgraded facility will also be relocated to the centre of the running track, which will allow the current fenced off space in West Park to be used by dog walkers.

South Downs Leisure Trust, which owns the lease to the land, has given permission for the area to be opened and made available to dog walkers on most days but will still need access to the area when there are events.
Read More
---
July 5th, 2021
Help Nature to ReNature!

Major initiative to tackle biodiversity crisis and create around 21,000 football pitches of new wildlife-rich habitat
An inspiring campaign launches today to "renature" the South Downs National Park and create new havens for wildlife to flourish.
In the biggest initiative ever launched by the National Park, the #ReNature campaign is looking to raise £100m over the next 10 years to create an extra 13,000 hectares – or around 21,000 football pitches – of habitat where plants and animals can thrive.
Read More
---
July 1st, 2021
New Visitor Guide helps boost Worthing's appeal to tourists for Summer 2021

It's Time for Worthing! That is the message of the Borough's new brand and a new 35-page guide aimed at attracting visitors this summer.
The visitor guide for 2021/22 is branded with the new colours, design and message of Time For Worthing urging people to take another look at a place that has fabulous things to do and see....and the space to enjoy them.
Read More
---
June 29th, 2021
The fearlessly imaginative and physically daring Lîla Dance bring their latest work to Worthing
Worthing Theatres and Museum are excited to welcome Lîla Dance to the Connaught Theatre on Saturday 17 July with The Hotel Experience. Known for their visually stunning and cinematic work Lîla Dances latest show will captivate audiences with an extraordinary night of dance.

The Hotel Experience sees a man check into a hotel the night before his wedding unaware that things may not be as they seem. This is no ordinary Hotel room, but a space that remakes and re-structures itself in tune to the psychological and emotional states of the people that occupy it. Memories that were seemingly forgotten are brought back to reality to be relived once more.
Read More
---
Topics
Recent Posts
Have You Seen...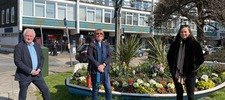 ANGER AT MONSTROSITY OF 5G POLE PROPOSAL AT BROADWATER SHOPS
March 25th, 2021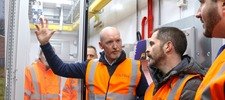 CityFibre speeds up Adur and Worthing's digital transformation
February 20th, 2020