Local News
July 14th, 2021
BID TO RESTORE CLIMATE TACKLING SEABED KELP FOREST GETS GOVERNMENT SEAL OF APPROVAL WITH MAJOR GRANT

An innovative plan to restore a kelp forest off the coast of Sussex has resulted in Adur & Worthing Councils being awarded a government grant for major schemes tackling climate change.
Working with the Sussex Kelp Restoration Project, neighbouring local authorities and other partners, the Councils want to support work to restore natural kelp forest in the seas out to 4km off the coast between Selsey and Shoreham.

Coastal kelp beds help combat climate change by drawing down carbon dioxide from the atmosphere, reduce coastal erosion by absorbing wave energy and provide a haven for wildlife. Eventually the hope is that a Sussex Bay marine park can be created across the entire county coastline.
Now the scheme has been given a government seal of approval with the award of £79,000 from government department Defra and the Environment Agency to invest in the project. It is one of 27 schemes across the country to be awarded funds from the ground-breaking £10 million Natural Environment Investment Readiness Fund.
Read More
---
July 12th, 2021
Unused shop fronts provide space for outdoor exhibitions

Empty shops in Worthing are being given a new lease of life thanks to a creative collaboration designed to brighten up the town centre post-lockdown.

Worthing Borough Council has joined forces with local artists, advertising agency Ground Up Media and charity End Youth Homelessness to create exhibitions in three prominent locations.

The shop front installations in Ann Street, Montague Street and South Street have been funded from the Cultural Recovery Fund and European Development Fund to promote positivity through art by brightening up our highstreets.
Read More
---
July 9th, 2021
New pedestrianised avenue on its way to Worthing town centre

Ambitious plans to create an attractive pedestrianised avenue between the seafront and town centre which can be used for community events and mini-festivals are set to be drawn up by Worthing Borough Council.

Montague Place was, historically, a peaceful open space providing residents and visitors an area to escape the hubbub of the promenade and main shopping streets. That was until the rise of motorised transport saw it turned into car parking, loading bays and drop-off point with turning circle.

With the COVID pandemic requiring more space in public areas, the Council introduced emergency road closures in the area and relocated parking spaces to allow local traders and businesses the chance to utilise the space.
Read More
---
July 9th, 2021
COUNCILS INTERVENTION PROJECT AIMS TO HELP RESIDENTS IN NEED
COUNCILS INTERVENTION PROJECT AIMS TO HELP RESIDENTS IN NEED

A pilot project to help residents in financial difficulties has been launched by Adur & Worthing Councils amid fears for rising poverty levels post-pandemic.

Council staff have contacted scores of people in the most vulnerable households to offer help and advice about avoiding falling further into debt. They found that more than half of those spoken to in Adur and almost half in Worthing were potentially eligible for benefits they were not claiming and/or could access money mentoring/employment coaching etc.
Read More
---
Topics
Recent Posts
Have You Seen...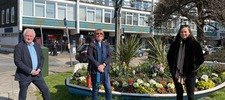 ANGER AT MONSTROSITY OF 5G POLE PROPOSAL AT BROADWATER SHOPS
March 25th, 2021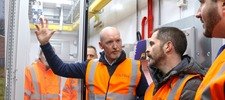 CityFibre speeds up Adur and Worthing's digital transformation
February 20th, 2020