Lancing
February 16th, 2021
New Cafe on Worthing Pier Aims to Help Bounce Back....Economically and Socially

'We need a sustained period of celebration when this is over and hopefully we can add to this.'

That is the message today from the businessman about to breathe new life and activity into Worthing's award-winning pier.

Alex Hole, famous for his hugely popular Perch cafe on Lancing beach is currently working with a team right down on the wooden planks of the pier to restore the pier's Southern Pavilion.
Read More
---
November 10th, 2020
Chief Constable launches postcard competition for children and young people

Sussex Police Chief Constable Jo Shiner is looking for new postcard designs to use when writing to children and young people, and is inviting Sussex's under 18s to come up with the designs.
As well as having their design printed on a postcard, the three winners will be invited to join Sussex Police teams for a range of experiences including meeting a police dog, seeing an equipment demonstration and even tea and cakes with the Chief.
Across three age categories – up to 10, 11–14 and 15–18 – entrants have until Monday 30 November are invited to use their creative skills, from painting to photography, drawing to collage, to come up with a winning design, which can be inspired by the Sussex Police priorities:
Protecting our Communities (keeping you safe)
Catching Criminals
Delivering an outstanding service.
Jo Shiner said: "It gives me great pleasure to launch this competition for children and young people across Sussex. It has been a challenging year for everyone and this is a chance to have some fun and be creative. I am really excited to see your ideas and designs. I hope it will be a welcome activity that you can safely do at home and I look forward to meeting the winners. "
Winners will be chosen by a panel of young people and independent judges. Their prize will be organised in line with timescales permitted under Covid-19 restrictions for safety reasons. Runners up will also have their work displayed in police stations across Sussex in early 2021.
Enter the competition here: www.sussex.police.uk/postcardcompetition
https://www.sussex.police.uk/news/sussex/news/force-news/chief-constable-launches-postcard-competition-for-children-and-young-people/
Read More
---
September 29th, 2020
National Road Safety Survey....closing date 30/09/2020

The Association of Police and Crime Commissioners has launched a national road safety survey to help inform the Home Office's review of roads policing and any future plans for enforcement.

We know this is a top priority for Sussex residents, and Police & Crime Commissioner Katy Bourne wants to make sure you have your say: www.surveymonkey.co.uk/r/apccsaferoads

It only takes 60 seconds to complete and will close on Wednesday 30th September at midnight.

We are sorry for the short notice but have only just been asked to circulate this information.
Read More
---
August 28th, 2020
No One is Immune to Climate Change - Banner Drop

Worthing Extinction Rebellion (XR) performed a thought and action provoking banner drop at 6am this morning on Worthing Pier. XR said "The world is way off track to stop run away climate and ecological breakdown. Worthing is a seaside town and sea rise levels are predicted to flood many areas. We must Act Now."

Link here: https://coastal.climatecentral.org/map/11/-0.3506/51.0052/?theme=sea_level_rise&map_type=coastal_dem_comparison&contiguous=true&elevation_model=best_available&forecast_year=2030&pathway=rcp85&percentile=p95&return_level=return_level_1&slr_model=kopp_2014

Worthing XR state that most Paris Climate Agreement pledges have been broken. "We will pass 1.5' warming in the next five years and the governments own Climate Change Committee report predicts a 4' warming by 2100. A world not fit for habitation by any living species."

They urge that the catastrophic effects on human society and the natural world may spiral out of control if the Climate and Ecological Emergency is not addressed in time, including
⦁ Biodiversity Loss
⦁ Sea level rise
⦁ Desertification
⦁ Wildfires
⦁ Water shortage
⦁ Crop failure
⦁ Extreme weather

The combined result of these destabilising events will be:
⦁ Millions displaced
⦁ Disease
⦁ Increased risk of wars and conflicts
⦁ Impacts on human rights

The aim of the banner drop is to provoke thought and action amongst Worthing people because "We are in a planetary emergency. We must immediately begin improving carbon absorption, reduce emissions and stop the harm we are causing to the natural world." They state that "The task before us is daunting but we have proved big changes can be made during the Covid19 pandemic. We must Act Now."
To get involved contact

xrworthing@protonmail.com
Read More
---
Topics
Recent Posts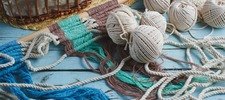 The Good Stitch
April 13th, 2021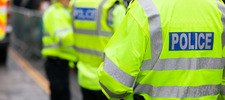 Police are appealing for witnesses to a serious assault in Worthing.
April 7th, 2021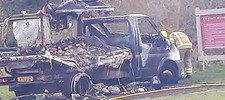 Disposable barbecue causes fire on Council litter truck resulting in £30,000 in damages
April 1st, 2021
Have You Seen...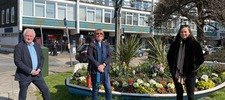 ANGER AT MONSTROSITY OF 5G POLE PROPOSAL AT BROADWATER SHOPS
March 25th, 2021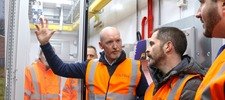 CityFibre speeds up Adur and Worthing's digital transformation
February 20th, 2020