Business News
September 10th, 2021
THE WSCC RECOVER & RISE SME DIGITAL ACCELERATOR PROGRAMME

Free online workshops start in September to help West Sussex businesses maximise the
impact and accessibility of digital technologies.

The Recover and Rise SME Digital Accelerator programme is a four-part series comprising
more than 25 online workshops:

● Series 1: Getting Online
● Series 2: Customers and Marketing
● Series 3: Systems and Productivity
● Series 4: Growth Expansion and New Products.
The aim is to help Small and Medium-sized Enterprises (SMEs) utilise digital tools and gain
expert knowledge and advice on how best to grow their online presence, attract and retain
new customers and work more productively.
The workshops start on 9 September and will take place at 12pm on Tuesdays and
Thursdays. They will run through to January 2022.
Read More
---
August 3rd, 2021
SPARKLING NEW WEBSITE SENDS OUT CLEAR MESSAGE: IT'S TIME FOR WORTHING

A sparkling new website packed with information on investing and living in Worthing is today (Tuesday Aug 3) launched.

The Time for Worthing inward investment project wants to attract visitors and businesses to the borough to boost the local economy.

The new website has breath-taking videos, stunning brand artwork and is packed with information about the borough and what there is to do. The project believes it will help those who live outside the borough's boundaries and even local residents take a fresh look at the place.
Read More
---
July 12th, 2021
Unused shop fronts provide space for outdoor exhibitions

Empty shops in Worthing are being given a new lease of life thanks to a creative collaboration designed to brighten up the town centre post-lockdown.

Worthing Borough Council has joined forces with local artists, advertising agency Ground Up Media and charity End Youth Homelessness to create exhibitions in three prominent locations.

The shop front installations in Ann Street, Montague Street and South Street have been funded from the Cultural Recovery Fund and European Development Fund to promote positivity through art by brightening up our highstreets.
Read More
---
June 21st, 2021
WORTHING TELLS GOVERNMENT: HELP US BOUNCE BACK WITH CULTURE AND CREATIVITY

The Government is being asked to back Worthing's bid to use creative and cultural industries to help kickstart efforts to rejuvenate the town centre and lead a post-pandemic economic recovery.

Worthing Borough Council has bid for £10.5m from the government's Levelling Up Fund, aimed at schemes to regenerate communities.

In a separate move the leader of the Council, Cllr Daniel Humphreys and MP for Worthing West, Sir Peter Bottomley are to meet Robert Jenrick, the Secretary of State for Housing, Communities and Local Government to press the borough's case for funding.

The Fund money would be used to create creative and cultural spaces through the borough for designers, artists, digital companies and even spaces for gamers to enjoy. Council-backed Citizens' Wifi will give thousands of residents access to the ultrafast broadband via a number of community spaces.

The Council also wants to investigate the restoration of key buildings in the borough to preserve their historical significance and architectural interest.
Read More
---
Topics
Recent Posts
Have You Seen...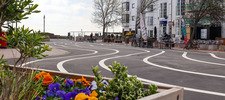 Brightening up Montague Place
April 26th, 2022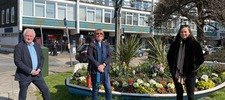 ANGER AT MONSTROSITY OF 5G POLE PROPOSAL AT BROADWATER SHOPS
March 25th, 2021