Business News
November 28th, 2022
New electric charging points proposed for Adur and Worthing

Using an electric vehicle in Adur and Worthing will become far easier with the roll-out of public charging points - with the community helping to decide where they should go.

Adur & Worthing Councils is working with West Sussex County Council and Connected Kerb on the installation of charging points in a £1.8 million project.
Read More
---
November 28th, 2022
Community urged to have their say on plans for Union Place in Worthing
Residents and businesses have the chance to have their say on plans to transform Worthing's derelict Union Place site with 200 new homes.

Worthing Borough Council is working with developer Roffey Homes on a scheme to use the former police station site and the adjacent NCP car park and High Street short-stay car park for housing.
Read More
---
November 18th, 2022
Local businesses surveyed over cost of living

Businesses across Adur and Worthing are being asked to share details of how the cost of living is affecting their trade and their staff.

Adur & Worthing Councils have launched a new survey with Adur & Worthing Business Partnership (AWBP) and Worthing & Adur Chamber of Commerce to find out how local traders of all sizes are coping with the cost of living crisis - and if there are ways they can be helped.

The survey includes questions on how rising costs, interest rates and ongoing financial uncertainty are affecting companies in the area, especially after the COVID-19 lockdowns that hugely impacted independent businesses.
Read More
---
October 24th, 2022
Worthing's new health centre is going up fast!

Construction of the state-of-the-art Worthing Integrated Care Centre (WICC) is going well, with the foundations of the building having reached its highest point and external work getting underway. Cllr Dr Beccy Cooper, the Leader of Worthing Borough Council, was recently joined by other councillors and representatives of the partners involved in the project to see how the site is developing.
Read More
---
Topics
Recent Posts
Have You Seen...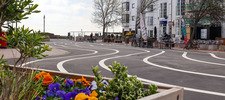 Brightening up Montague Place
April 26th, 2022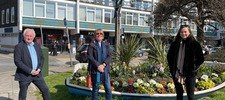 ANGER AT MONSTROSITY OF 5G POLE PROPOSAL AT BROADWATER SHOPS
March 25th, 2021