Broadwater
October 22nd, 2021
Adur & Worthing Councils' strike gold for animal welfare

Adur & Worthing Councils have been recognised for their work and commitment to animal welfare.

Their dog warden service was awarded the coveted RSPCA Gold PawPrint Award, which recognises good practice in helping animals by local authorities in England and Wales that go above and beyond the basic requirements.
Read More
---
October 15th, 2021
Children invited to become Marine Warriors

Children are being encouraged to learn about marine life and the beautiful Sussex coastline with the launch of Worthing's new 'Marine Warriors' initiative.

The activity, created by Worthing Borough Council's Coastal Office, aims to inspire kids to follow a fun and educational seaside trail to the rockpools, where they can explore, discover and learn about the beautiful world beneath the sea.

The Marine Warrior backpack, which is free to hire from the Coastal Office, contains a compass, magnifying glass, crabbing net, bucket and spade. All items have been carefully chosen as eco-friendly and sustainably sourced to highlight the plastic pollution crisis in our seas.
Read More
---
October 14th, 2021
OUTDOOR LEISURE FUN PLAN TO BRING TEVILLE GATE BACK TO LIFE AS COUNCIL BUYS KEY SITE

The revival of the long-derelict Teville Gate site is to take a leap forward with the search on for a company to take it over for leisure activities while a longer term developer is sought.

Worthing Borough Council has now completed the purchase of the site for £7m in a bid to control the destiny of the key site having become exasperated with the efforts of private ownership over decades to move forward.

Now as it prepares to look for a partner to bring forward a new housing and retail development it has advertised for a 'meanwhile' use operator to bring life back to the site with outdoor activities.
Read More
---
September 28th, 2021
Worthing Mental Health Awareness Week 4th - 9th October 2021

The organisers of Worthing Mental Health Awareness Week (WMHAW) are pleased to confirm that the 9th annual event will take place at Offington Church.

The full programme can be found at www.worthingmentalhealthweek.co.uk shortly, on Faceook and via #WMHAW21 on Twitter and in the centre spread of ALL 6 Inside Magazines October edition!

The online platforms will be regularly updated leading up to and during the week itself.
Read More
---
Topics
Recent Posts
Have You Seen...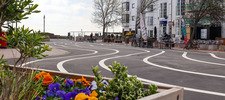 Brightening up Montague Place
April 26th, 2022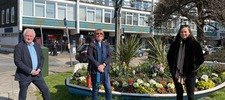 ANGER AT MONSTROSITY OF 5G POLE PROPOSAL AT BROADWATER SHOPS
March 25th, 2021