Broadwater
May 19th, 2022
Works start on Wednesday 18 May at Poulters Lane and a section of the connecting South Farm Road in

Essential road resurfacing work is scheduled to start soon on the A2032 at Poulters Lane and a section of the connecting South Farm Road in Worthing.
The surface in Poulters Lane is showing signs of significant weakening: the new one will be smoother, which will reduce road noise, and more resilient to potholes. A section of the adjacent South Farm Road will also be resurfaced, up to the Ardsheal Road junction.
The project is scheduled to start on 18 May. Hours of work will generally be between 8pm and 6am from 18 May to 21 May and 23 May to 28 May, all subject to factors such as severe weather.
Read More
---
April 7th, 2022
Candidates for Adur and Worthing local elections published

Polling cards are dropping through residents' letterboxes for the upcoming Adur and Worthing local elections taking place this May.

The Adur District Council and Worthing Borough Council elections will take place on Thursday 5 May 2022, with voting between 7am and 10pm.

A list of nominated candidates has now been published on Adur & Worthing Councils' website.

To find out who is standing where you live visit https://www.adur-worthing.gov.uk/elections-and-voting/upcoming-elections/elections-05-05-2022/#adur-district-elections and click on the Statement of Persons Nominated document for both Adur and Worthing.
Read More
---
February 9th, 2022
Councils call on communities to celebrate Queen's Platinum Jubilee

Adur & Worthing Councils have earmarked nearly £50,000 to help the community and local groups celebrate The Queen's Platinum Jubilee in style.

Her Majesty will be the first British monarch to reach this milestone, having acceded to the throne at the age of 25 on 6 February 1952, 70 years ago. To recognise the landmark, the Councils are planning a series of events across the region to run in tandem with those being held nationally.

Funding will come out of reserves with £20,000 from Adur District Council and £28,500 from Worthing Borough Council to pay for the community-based festivities that culminate in a four-day bank holiday from 2-5 June.

Cllr Emma Evans, Adur District Council's Executive Member for the Environment, said: "The Jubilee will provide many opportunities for communities, local groups and schools to come together and share bonds, which is particularly important after the difficulties we have all endured during the last two years of the pandemic.

"Events such as street parties will provide neighbours with the opportunity to both recognise and build new friendships."

Cllr Nicky Waight, Worthing Borough Council's Executive Member for Regeneration, added: "We are very excited about the Queen's Jubilee celebrations and all the events that are planned around it.

"As well as bringing people together, the events will stimulate and support the visitor economy in both Adur and Worthing as we work in partnership with business groups, not to mention some of the projects based around green spaces that can enhance mental and physical wellbeing."

The Councils' planned events kick off on 11 March when civic heads from Adur and Worthing will plant an Old English Oak Tree to commemorate the event, with the likely sites being Beach House Park in Worthing and Buckingham Park in Shoreham.

As part of the Queen's Green Canopy - a nationwide initiative to invite people, community groups and schools to plant trees and establish new woodland areas to enhance local biodiversity - new trees will be planted in Buckingham Park and Worthing's Brooklands Park.

The Seafront Gallery, off Marine Parade in Worthing, is also set to commission a series of Platinum Jubilee-themed displays over the summer in the lead-up to The Queen's official birthday on 2 June.

To honour Her Majesty's birthday there are plans to host a dawn torch-lighting event at Highdown Gardens that could be linked to a lighting of the Beacon later.

There will also be a Jubilee concert and light show in Worthing's Steyne Gardens with music from the past 70 years of The Queen's reign on Friday 3 June, while the following day will be a second evening of film and music, including a Jubilee finale.

The final day of the celebrations, on Sunday 5 June, will feature The Big Lunch campaign, which aims to give communities the opportunity to come together to host street parties and celebrate. The Community Street Party application process is open until 15 April.

There are also celebratory events on Worthing promenade and at Adur Recreation Ground, as well as the Shoreham Vintage Fair. The Councils will hang Jubilee bunting and fly the Union flag during the celebrations.

For more information on how to get involved visit https://www.adur-worthing.gov.uk/queens-platinum-jubilee/.
Read More
---
January 25th, 2022
Housing Targets Are Not Fit For Purpose

The leader of Worthing Borough Council today hit out at government house building targets for the area calling them 'unrealistic and a threat to our green spaces'.

Cllr Kevin Jenkins was responding to new figures which show the Council has only given permission for 784 new homes in the last three years although the government insists this should be 2268 to meet the Borough's housing needs.
Read More
---
Topics
Recent Posts
Have You Seen...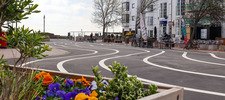 Brightening up Montague Place
April 26th, 2022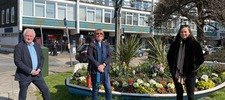 ANGER AT MONSTROSITY OF 5G POLE PROPOSAL AT BROADWATER SHOPS
March 25th, 2021