December 7th, 2021
Circus Charity to Perform at Brighton Dome

Budding young circus performers are preparing to take to the stage at Brighton Dome this December, with help from professional artists from Circolombia.

Students from three local youth circus schools, The Circus Project, Teardrop Circus and Hightop Circus, will perform a 'curtain raiser' that will open Circolombia's uplifting circus-concert Acelere during the venue's Christmas programme.

In a series of workshops run by Brighton & Hove charity The Circus Project, members of Circolombia worked with groups of children and young people, aged between 10 and 18 years old, to create two short routines. Learning new skills such as acrobatics, dance and choreography to complement the aerial techniques that the schools teach, the students will showcase what they have learnt to a live audience each night.
Read More
---
December 7th, 2021
Explore magical Christmas traditions through time at Petworth this festive season
Christmas at Petworth: Saturday 27 November 2021 to Monday 3 January 2022, 10:30am-3:30pm, includes Percy the Park Keeper's winter wander trail Saturday 4 December to Monday 3 January, 10am-3.30pm (closed 24 and 25 December)
Travel through time to discover Christmas traditions past and future at the National Trust's Petworth House and Park in West Sussex. From sparkling period costumes exquisitely fashioned from winter flowers and foliage, to mystical, magical scenes from the future, this is a Christmas experience for all ages.

In the Pleasure Garden, families can meet Percy the Park Keeper and help him and his animal friends with their winter jobs on the family adventure trail, or come along to enjoy poetry and choir performances on set dates.

This festive season the rooms in the art-filled Petworth House are being transformed into Christmas periods through history. Step into Georgian times in the Somerset and Square Dining Room, then experience the merriment of Christmas trees in the Victorian themed Marble Hall. See how despite the post-war era, families still celebrated Christmas with warmth and joy in the Little Dining Room. Then finally, travel through time to a fantastical future Christmas throughout the Carved and Red Room. Here you'll see a magical contemporary Christmas tree themed installation and discover how families may gather to celebrate the festivities in the future.
Read More
---
December 3rd, 2021
PLAN FOR MUSIC, SKATING, TENNIS AND MARKETS TO BRING TEVILLE GATE TO LIFE

An 800-capacity music venue, indoor skate park and padel tennis courts could be among the attractions at a revamped Teville Gate, a report reveals.

Courtyard small units for young local creative independent businesses and pop-up markets are also in the plan drawn up by the company that created the Level 1 leisure space at Grafton Multi-Storey car park.

A report to Adur & Worthing Councils' Joint Strategic Committee (JSC) says the company, QED Sustainable Urban Developments Ltd, is the preferred bidder to develop the site after a tender process was conducted.

The revamp would be what is known as 'meanwhile use' for the next three years as the Council seeks to bring forward longer-term proposals to build much-needed new homes and retail on the site.

On that front the report proposes a partnership with blue-chip development body London and Continental Railways Ltd (LCR) to bring to fruition the homes and retail plan.

LCR is already working with Worthing Borough Council on developing the Union Place site and has invested more than £1m supporting the regeneration of the town since 2018. The company is wholly owned by the Department of Transport and has been involved in hugely successful regeneration schemes at Kings Cross and Stratford in London and Mayfield in Manchester.

LCR will take a £1m stake in the site, bought by Worthing Borough Council for £7m this year in a bid to bring fresh impetus into regeneration efforts. This will secure it 14 per cent of the land and it will commit to matching the council with staff employed to secure development.

Leader of Worthing Borough Council, Cllr Kevin Jenkins, said, 'This is really good news regarding Teville Gate. We have brought in two incredibly successful partners in their fields to bring fresh impetus into our plans.

'Anyone who has been to Level 1 at Grafton will know what QED are capable of and the Teville plans go further than that with an exciting mix of trade and leisure proposed. It really will being this area back to life

'We already have a successful partnership with LCR over Union Place and the company's track record speaks for itself. I'm more confident than ever that we will begin to see some long awaited progress at Teville Gate.'

The report says that if the committee gives the go-ahead and planning permission is awarded the first of the 'meanwhile uses' could be open on the site in late Spring next year. QED is also planning a community garden for the site.

In its pitch the company says the development would 'restore a key route through to the town centre and bring additional facilities for businesses as well as unique leisure activities for the whole community to enjoy.'
Read More
---
November 30th, 2021
Plans for restoring New Salts Farm to its natural habitat to be unveiled

Local residents are invited to contribute ideas for restoring New Salts Farm to its natural habitat.
The 70-acre piece of land - the green gap between Shoreham and Lancing - was purchased by Adur District Council in 2020 to protect it from housing development.
And now the Council and the Ouse & Adur Rivers Trust are developing ideas for the site to become a haven for wildlife and a green space to be used and enjoyed by the community.
They are hosting a webinar Thursday 9th December from 6 pm to 7pm, at which residents can hear about the current ideas for the site. As well as restoring streams, wetlands, hedgerows and meadows, this could include creating an educational training space and a community garden.
New Salts Farm is one of a number of areas of land purchased by Adur District Council as part of its pledge to promote biodiversity and tackle climate change. In 2019, the Council declared a climate emergency and has committed to becoming carbon neutral by 2030.
Wetlands, like New Salts Farm, help to store carbon and support an abundance of plant life, which in turn provide shelter and breeding grounds for wildlife.
Salt marshes are important habitats for many rare and unusual species of plants, birds and animals and help protect surrounding land from flooding. They also absorb carbon dioxide from the atmosphere which helps to decrease the effects of climate change.
Read More
---
Topics
Recent Posts
Have You Seen...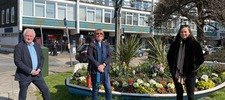 ANGER AT MONSTROSITY OF 5G POLE PROPOSAL AT BROADWATER SHOPS
March 25th, 2021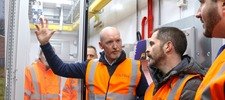 CityFibre speeds up Adur and Worthing's digital transformation
February 20th, 2020